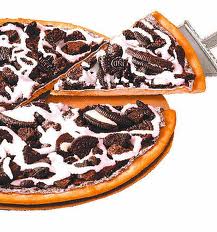 Dessert pizza is pizza that is for dessert. They do not have cheese or tomato sauce. Instead, they have other toppings, such as chocolate chips or fruit.
Lunchables sells a regular pizza AND a dessert pizza, called a Treat-za. It has chocolate fudge (tastes like pudding) and colorful chocolate pieces.
A good recipe is to make some dough in the shape of a pizza and bake it. While that is happening, melt some chocolate and when the pizza is done, cover the base in chocolate. Cover the chocolate with sprinkles and put some cut up flump (Because it is cheap than a bag of marshmallows (Flump: 10p Bag of Marshmallows: £1.10))on top and your done.
Ad blocker interference detected!
Wikia is a free-to-use site that makes money from advertising. We have a modified experience for viewers using ad blockers

Wikia is not accessible if you've made further modifications. Remove the custom ad blocker rule(s) and the page will load as expected.