The primary difference between deep-dish pizza and most other forms of pizza is that, as the name suggests, the crust is very deep, creating a very thick pizza that resembles a pie more than a flatbread. Although the entire pizza is very thick, in traditional Chicago-style deep-dish pizzas, the crust itself is thin to medium in thickness, not to be confused with imitations created outside Chicago which use a much thicker crust.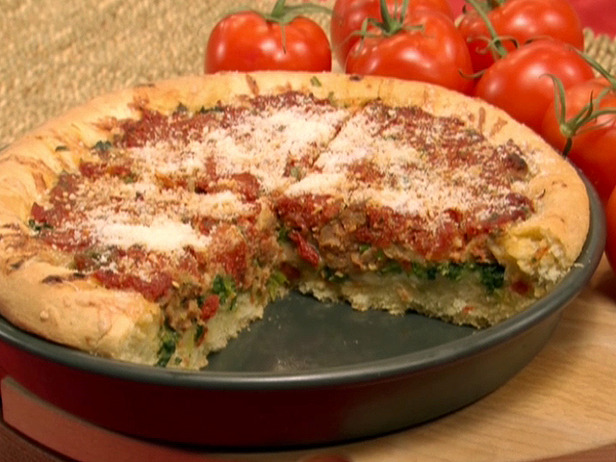 Deep-dish pizza is baked in a round, steel pan that is more similar to a cake or pie pan than a typical pizza pan. The pan is oiled in order to allow for easy removal as well as to create a fried effect on the outside of the crust. In addition to ordinary wheat flour, the pizza dough may contain semolina or food coloring, giving the crust a distinctly yellowish tone. The dough is pressed up onto the sides of the pan, forming a bowl for a very thick layer of toppings.
Ad blocker interference detected!
Wikia is a free-to-use site that makes money from advertising. We have a modified experience for viewers using ad blockers

Wikia is not accessible if you've made further modifications. Remove the custom ad blocker rule(s) and the page will load as expected.