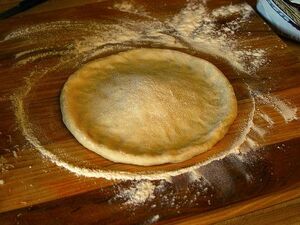 Crust is the bread base of a pizza. It holds all of the pizza's toppings.
Outer crust
Edit
The outer crust is the portion of the crust that does not have toppings. Some people believe that it does not taste as good as the rest of the pizza. They either dip it in sauce or do not eat it. Pizza with cheese in its outer crust is stuffed crust pizza.
Ad blocker interference detected!
Wikia is a free-to-use site that makes money from advertising. We have a modified experience for viewers using ad blockers

Wikia is not accessible if you've made further modifications. Remove the custom ad blocker rule(s) and the page will load as expected.